EXPERIENCE WINE COUNTRY
Our wineries are close enough to each other that you can visit several in a day and experience them all in a long weekend. They include Jules J. Berta Vineyards in Albertville, Wills Creek Vineyards in Attalla, Maraella Winery in Hokes Bluff, White Oak Vineyards in Anniston, Fruithurst Winery in Fruithurst, and High Country Cellars in Heflin.

Every vineyard hosts wine tastings and has bottles available for purchase. Whether you're packing a picnic and spending the day with that special someone, kicking back with good friends and even better wine, or developing your palate to impress your friends back home with new wine knowledge, there's a world of adventure around every vine in North Alabama.

Not only will you have fun, but you'll also get some health benefits! Recent research shows muscadine grapes grown in Alabama have an impressive 500% more antioxidants than other grapes.

We think that's reason enough to raise a toast to Alabama wineries!


See what's included!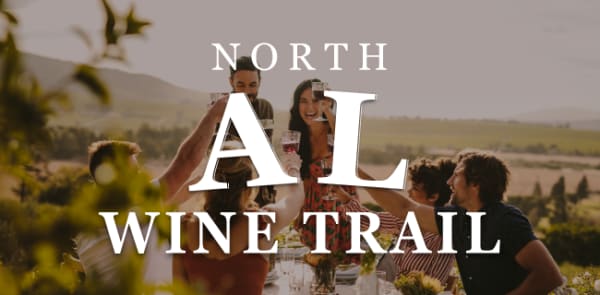 Mobile exclusive
Instantly delivered via text and email
Finish the trail and win a branded wine glass